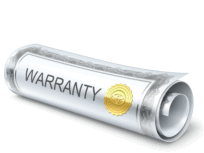 Desktops, Laptops, and Servers
Sanford's ComputerWorks warrants desktop, laptop, and server systems to be free from defects in material and/or workmanship. NEW units receive a one-year warranty, and USED units receive a 90-day warranty. Warranty coverage is provided to the original purchaser of the system, and covers parts replacement and reinstallation of Windows if the operating system needs to be reloaded due to problems caused by hardware failure that is not listed in the Exclusions below.
This warranty is prorated/extended on the following basis: beginning the day after the above warranty expires, and for a period equal to one-half of the original warranty, the customer will receive warranty coverage starting at 80% of the replacement cost of parts and labor, and depreciating to 0% when the end of the period is reached.
For example, if you purchase a used system, you would receive 45 days of additional coverage, starting at 80% on day 91, and depreciating to 0% on day 135. On a new system, you would receive 6 months of additional coverage, starting at 80% on day 366, and depreciating to 0% on day 548 (1 year 6 months).
Extended Warranty
An extended warranty can be purchased on desktops, laptops, and servers up to 7 days after the date of original purchase. On used systems, the warranty is extended to one year. On new systems, the warranty is extended to three years. The Extended Warranty can be purchased for 20% of the original item amount. The Extended Warranty does NOT receive prorated extension as described above.
Parts and Components
New parts and components receive a one-year warranty. Used parts and components receive a 90-day warranty. Parts not installed by Sanford's ComputerWorks are NOT warranted by Sanford's ComputerWorks under any circumstances. New monitors and printers are subjected to manufacturer's warranty only.
Note on Manufacturer's Warranty
There are some cases where you may receive warranty coverage from a manufacturer, beyond the warranty period which you receive from Sanford's ComputerWorks. In the event that you have an issue beyond the warranty period that we provide, we will gladly visit a manufacturer's website to determine if your item is still eligible for warranty coverage from a manufacturer.
Exclusions – What our warranty does NOT cover
No warranty work is done onsite. All warranty work needs to be done at Sanford's ComputerWorks' repair center. If work needs to be done onsite, normal labor rates will apply; however, warrantable parts will still be covered.
Issues normally covered by an insurance policy – water damage, fire, wind, storms, lightning, electrical spikes, etc.
Damage due to improper voltage or grounding on your electrical system.
Issues caused by neglect – fans unable to run because of dirt issues etc. You are welcome to bring in a system purchased at SCW anytime during the warranty period for a free physical cleaning.
Labor involved in reintegrating a system in its working environment. The labor coverage only covers hardware replacement and operating system reloads when OS problems were caused by hardware failure.
Labor involved in reinstalling customer software.
Improper packing for items shipped back to us.
Viruses, Trojan Horses, Hijacks, Rootkits, and other malware.
Smoke damage from fire or tobacco smoke.
Operating System (OS) deletion or corruption by a user's attempt to reinstall the OS.
Damages for loss of data or software restoration.
Incorrect installation of hardware, software, and/or accessories by the customer.
Failure to provide the proper installation environment.
Peripherals not purchased from Sanford's ComputerWorks or unauthorized attachments.
Service by any other service center.
Any other type of abuse, misuse, physical damage, or neglect.
Where the serial number or warranty label has been removed, defaced, or altered.
Other
Sanford's ComputerWorks reserves the right to modify the terms of the warranty at any time, without notice.
Returns
Returns for refund are subject to 20% restocking fee. No returns for items past 14 days from invoice date. All sales over $100 are final. No returns on special orders. Returns for trade-up are permitted, with the following condition: The customer is permitted to return a unit one time for full credit toward a unit of equal or greater value. The credit must be used within 2 business days.